Since I last showed you the initial Forces pictures on Monday morning I have been able to get a lot closer to the game when I met with 'Martin Mkitney' at the Rage Booth. While only an early version and an air of reluctancy to spill any of the beans about the game, it was still hugely impressive.
What we do know is that T&L (latest 3D Accel features) will be supported, all the textures are 32Bit!, the models are so highly detailed that they look curved (they arn't curved surfaces though) and boy does it rock bells! Initially we were only showed a rolling demo and I wasn't just impressed I was JAW DROPPINGLY SHOT IN THE MOUTH!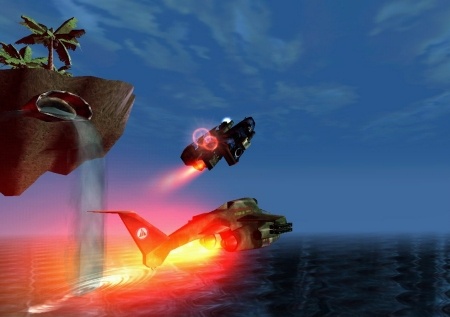 Huge craft of the like previously only seen in Conflict:FreeSpace rolled accross the screen with amazing grace and clarity. The ships themselves surpass any game models ever done to date, it's hard to explain just how DIALED! Forces looks.
Every 3D Feature ever thought of is in and as for the gameplay, it's NOT Incoming but with better graphics! No I am told a deeper strategy of play will be involved, quite how and what that means we have yet to see. Still expect lots of BLAST , BANG , CRASH and "OH Feck I DIED!", but perhaps with a more strategic field.
While everybody was being showed a rolling demo the Speedy3D ECTS team did something a little sneaky. We snuck back in and loaded the game up properly so we could have a REAL try at it. To be honest the gameplay was VERY similar to Incoming1, however this is a very early version and watch for the Official Preview soon!
<< Previous