Let's do this
After you have cut the appropriate amount of cable for your first connection you will need to strip back the outer casing of the cable. Cut approximately one half inches back; be careful not to cut any of the twisted wire pairs. If you do happen to make a minor cut you will need to cut off the damaged wire, and start anew.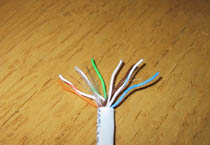 It's desirable for one to spread out each wire in the following pattern before inserting them into the RJ-45 connector (holding the head upside-down with the clip facing down). Use this sequence if you're going to be connecting your computers to a hub or switch or whatever, but not directly to each other:
White-Green
Green
White-Orange
Blue
White-Blue
Orange
White-Brown
Brown
It's best to use this color pattern, as it'll help prevent any errors. Once you have the wires all spread out, take a pair of scissors and cut them a little so that each is of the same length. This will make it easier to place the cable evenly into the RJ-45 connector.
NOTE: For PC to PC wiring sequence refer to this page.
Next >>
<< Previous