Another widely used benchmark is the Unreal Flyby Timedemo. Unreal is extremely CPU and GPU intensive, and is a great benchmark to test the limits of your graphics processor.
The Voodoo3 3000 PCI still performs quite nicely on the lower-end system, again beating out the TNT2, especially at 1600x1200. The V3 3500 AGP blows them both out of the water.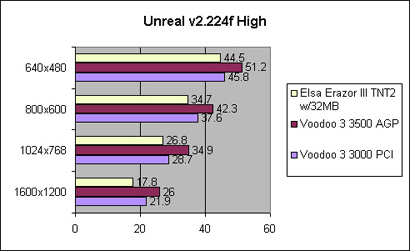 Again, the V3 3000 PCI scales very well with the faster CPU. Quite obviously the V3 3000 has an edge over the ERAZOR III, and performs better in current games on the market.
Next >>
<< Previous