Xtasy 6564
Core Clock: 175MHz
Memory Clock: 400MHz
This card is based on the same exact GeForce3 core and slower memory with clock speeds of 175MHz and 400MHz respectively. Dubbed the Ti200 this card is basically the low end GeForce3 card and targeted towards the masses, consider this card the GeForce3 MX.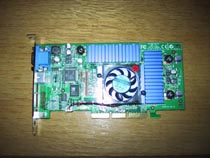 This board comes with TV out as with the all the cards in this roundup, however is absent the DVI connector found on the Ti500 card. Although, if you have enough money to buy a decent LCD, and are concerned about gaming you probably have enough money to opt for the Ti500.
Oveclocking
We were able to get this card almost up to the basic GeForce3 speeds which is very good indeed. While this card only have 5ns memory we were able to get the memory up to 440MHz without any artifacting or crashes. The core was able to overclock all the way up to the Ti500 speeds and beyond. We were able get about 245MHz of goodness out of this card which leads us to believe that both the Ti500 and Ti200 use the exact same core, at least on the VisionTek cards.
Next >>
<< Previous