Once everything is dry, you can start putting the pieces back together. Here are some pictures of the final results: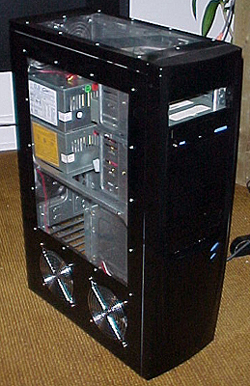 The 120mm fans on the side are used as intake (260cfm) and all the fans in the back of the case are used for exhaust (about170cfm). Yes, this thing is noisy as hell. You see the empty drive bay in front of the case? There is a baybus going in there to control those fans (and the noise).
That's about it for part2. I know I did not show you how to plug the two power supplies together. I'm sorry about that, and I know a lot of you are waiting for a good article on that very subject. Part3 will be dedicated to that: power supplies, and deferent ways to hook them up. Until next time…
As usual, your comments and ideas are welcome.
by Jean-Christophe Turcot
Part 3 >>
<< Previous