Cooling the beast (cont.)
Here is a shot of the Blowhole light/power switch.
One Cool Annihilator Pro
For the Geforce I decided to go all out. What is the use of having a screaming fast system with a slow (insert evil grin) Annihilator Pro. I picked up a socket7 heatsink/fan combo at my local computer shop, and I found some nice small heatsinks at Radio Shack (Radio Shack Part# 276-1378).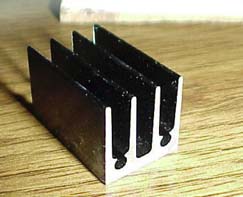 After all the modifications were complete the Annihilator looked like this:
The obvious disadvantage is that the monstrous socket 7 heatsink/fan blocks 2 PCI slots. This was not really an issue for me, but it may be for some of you out there.
In case you are interested I froze the Annihilator for about ten minutes to pry off the heatsink. I used 3m thermal tape for the small ram sinks. I used zip ties and thermal paste to hold the socket 7 heatsink/fan in place.
Next >>
<< Previous