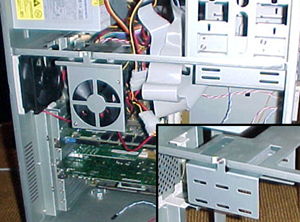 The lower section also contains two plastic racks in the front for 80mm intake fans and a spot in the back near the CPU for a 92mm exhaust fan. None of those fans require screws to be installed, everything is held in place by clips. The holes in the chassis to let the air go through are much bigger then what I have seen in other cases. The front panel has a built in filter to prevent dust accumulation in the system. This filter is removable so it can be washed and reused. One 80mm ball bearing fan is included with the case.
A removable motherboard tray is included. It makes the system easier to install. You can install the motherboard and all the ISA/PCI/AGP cards, the CPU and DIMM(s) of RAM on the tray and then slap it back in place in one big piece. The tray is held to the case by four screws.
The LEDs and reset button are also located in the lower section of the case. What is interesting about them is that they are not attached to the bezel but to the frame of the case. They are held in place by a little plastic box, which is held to the case by clips. This makes it very easy to switch LEDs. There is one dual color (green/orange) power LED and two red LEDs for hard drives. The reset button is a little bit too small.
Overall the case is great! It's a little bit expensive though. You can get the 6890A for 80$ without a power supply. With a 300W power supply like I got, the price jump to $134, I believe the price is fair if you consider all the features and the level of quality you get. If this case is not exactly what you are looking for there is other models available in the same series. The 6896A is a revision model of the 6890A. The 7890A and 7896A are bigger models, which feature all the same nice options but with even more drive bays and more fan cages.
Visit Addtronics website for more information on all the models they offer. They give excellent service and they ship your order within 24 hours. For the price I will give it 8/10 because it is quite expensive but I believe it is a fair price. And I will give it a big 10 for it's performances. It is very spacious, robust and has enough fan options to keep any system cool. If you are shopping for a top quality case, Addtronics is definitely a brand you should put on your list.
by Jean-Christophe Turcot
Price - 8 Performance - 10 Overall - 9
<< Previous