If you buy this cooler, it's most likely to replace a retail heatsink. So I've decided to test it against a Cool Master heatsink. Thermal pads were removed from both units and replaced with thermal compound. The test system is a PII 400Mhz on an Abit BE6-2 motherboard. For the test, I ran Unreal flyby intro for 20 minutes and 20 minutes brakes were taken between each test to let the processor cool down. Temperatures were taken with Motherboard Monitor.
Temperature Tests


CASE OPEN

Highest

Lowest

Average

39RR

49RR

46.10RR

33V

37V

35.40V

CASE CLOSED

Highest

Lowest

Average

41RR

51RR

47.43RR

35V

40V

37.26V

Degrees Celsius
*RR - Retail Heatsink
*V - Vantec P3D-5030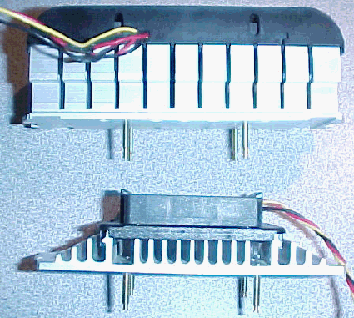 As you can see, the P3D-5030 performed way better than a retail heatsink and should be of great help if you're planning to overclock you processor. This chip could do 440 MHz (FSB@110) stable with the retail heatsink and is now clocked at 476 (119 FSB) with help from the P3D-5030. This may not be the best heatsink there is, but you can't beat it for the price and I'd recommend this unit to anyone seeking a cooler CPU. Big thanks go out to 2cooltek.com for the sample unit.
By Jean-Christophe Turcot
Price - 9.0 Performance - 8.0 Overall - 8.5
<< Previous