Promote the illegal
Several years ago it would have been hard to imagine that a game such as Thief that's based on stealing could have ever worked, however the mere fact they made a sequel to the original game is proof enough that it did and still does. The game itself is a FPS (First Person Perspective) game that breaks the mould by requiring more from its players than the ability to wave a sword and shoot things.
The basic idea is that you're given a mission to steal something, find or escort people and each mission has several sub plots. Sub plots can be anything from collecting money to infiltrating a mansion and stealing some essential documents. The thing that makes Thief2 (T2) different from anything else is its realism and the amount of skill it requires to complete a set task, namely, very high.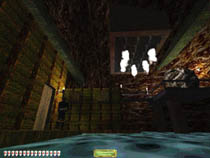 Wondering around the vast cities, you quickly find the T2 play to be a lot more involving than the original, yet still a little to similar. Controls play a big part in the game and T2 uses exactly the same system as the later updates of Thief, namely your typical barrage of FPS style mouse/keyboard or even joystick combinations. The controls are smooth although may require some time to set-up due to the large amount of keys you need to bind and understand in order to play effectively enough.
Having said that Thief2, like its predecessor, is not a fast moving action game, so no need to worry about having to make any nifty control settings other than for sword fighting and the essentials.
Next >>
<< Previous