The gameplay could be described as an evil hybrid of Lara Croft mixed well and truly in with some blade runner for style. You have to explore vast cities in the day, night, rain and even fog while trying to solve various crimes that pop up along the way. A neat radar coupled with your players Lara Croft style movement helps you move around the cities and get to your destinations. Not to mention you can also drive cars and join in police chases, fun all around.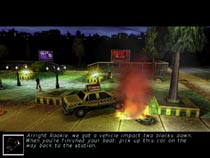 Along the way opportunities to get new weaponry and information are present by the ability to talk to NPCs who roam near various crime scenes as well as all over the city in droves. This neat combination of talking to people, looking around crime scenes, solving sub plots that come up along the 30 main missions and of course fighting help to make Urban Chaos more enthralling than your average adventure/action game.
Game for a surprise
Control wise and UC is a little less desirable, feeling a little like opening a flick knife the wrong way you will often find the controls to be a little worrying and limited. The movements of the character on anything other than running are less than pleasing; memories of 'The Nomad Soul' come running back all to quickly. There aren't that many keys to remember as such but then they don't feel right, you tap kick and your character moves unrealistically and does a kind of sharp chopping action.
Next >>
<< Previous