3Dmark 2001 Game4: Nature
We chose to report this test separately in addition to the main 3dmark 2001 score. Nature is the only test bundled with 3dmark 2001 that's takes advantage of some of the GeForce3's sophisticated new features. This benchmark was run once with Quincunx FSAA, as well as 2x & 4x FSAA, and again without FSAA.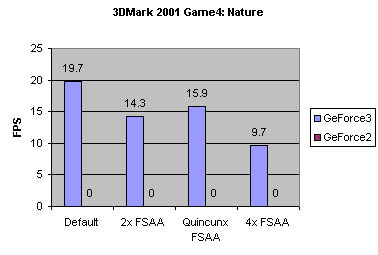 NOTE: This test would only run on our GeForce3, not on the GeForce2 GTS.
Mercedes Benz Truck Racing
While testing in this benchmark we only ran the default loop (1024x768x32 with all visual features enabled) on both of our cards.
Next >>
<< Previous