Test Setup
We feel very strongly about testing a HDD in "real world" conditions. We loaded up our 45GB HDD with 10GBs of data using Windows ME as our operating platform. We also used our normal AMD Athlon KX133 test bed computer with ATA/100 support.
Test Bed
AMD Athlon Slot A 800MHz
256MB PC133 SDRAM
Abit KA7-100 Mainboard
VisionTek GeForce2 GTS 32MB
Aureal SQ2500 (yes, still using this baby!)
Pioneer DVD-114 10x DVD/40x CD-ROM
Windows Millennium Edition Using FAT32 File System
Via IDE Busmaster Driver v2.1.50

Benchmark Programs Used
Performance
HD Tach Read Test
Overall the IBM 75GXP did quite well in our HD Tach benchmark. Scoring a random access time of 12.6 ms, across the whole disk is good, and well within our margin of error. A maximum read burst speed of 76.8MBps, which is below the ATA/100 maximum read speed, but that is to be expected.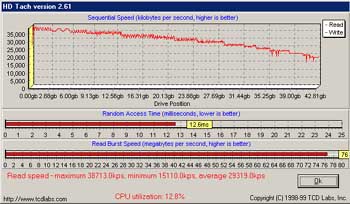 HD Tach reports an overall CPU utilization of about 12.8%, which is quite normal.
Next >>
<< Previous